Festival locations
Most PAFFF performances take place in De Harmonie, unless otherwise stated. However, a number of PAFFF performances are located on unique spots throughout the city centre. Check the performance pages to find out where your performance is taking place.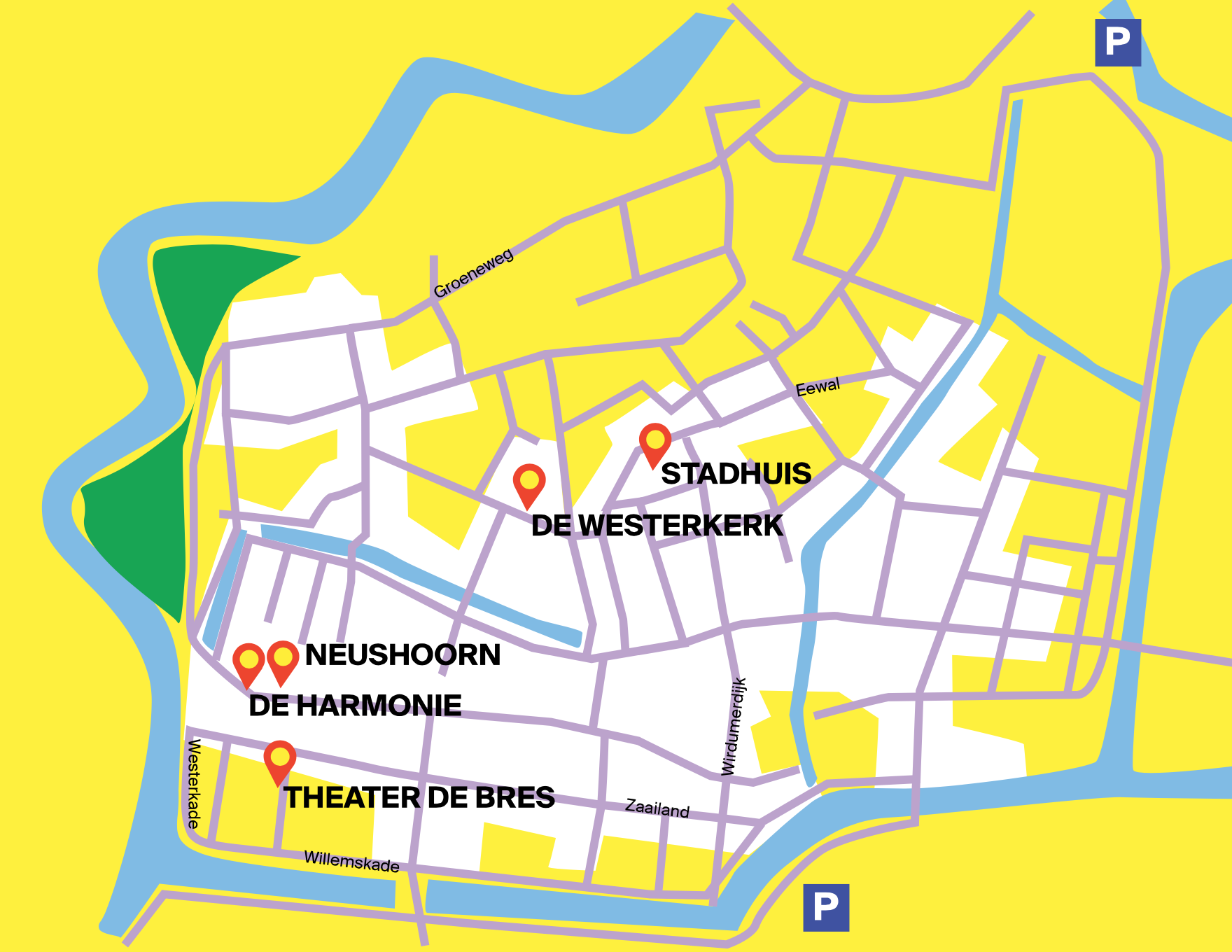 Useful addresses:
De Harmonie: Ruiterskwartier 4, 8911 BP Leeuwarden
Neushoorn: Ruiterskwartier 41, 8911 BP Leeuwarden
De Bres: Schoolstraat 4, 8911 BH Leeuwarden
De Westerkerk: Bagijnestraat 59, 8911 DN Leeuwarden
Het Stadshuis: Hofplein 38, 8911 HJ Leeuwarden
Does your performance take place in BOSK? Discover here where in the city you can find the walking forest.
Parking
There are two parking places reserved for disabled people on the right side of De Harmonie entrance, you can use these if you poses a disability parking card.

Street parking in the city centre of Leeuwarden is paid until 10pm. You can also park your car in one of the 6 car parks. On www.parkeergaragesleeuwarden.nl you will find more information, opening hours, and their locations. All parking garages are within walking distance of De Harmonie.
Be aware! The Ruiterskwartier passage next to De Harmonie building is restricted for cars.
Contact
You can reach De Harmonie on tel. 058 2330230 for general questions, or send an email to info@harmonie.nl.

For questions concerning tickets
De Harmonie ticket office can be reached during office hours on tel. 058 2330233.
Opening hours of De Harmonie ticket office
The opening hours of the ticket office are Tuesday till Friday from noon till 5pm.The ticket office also opens at 4pm on performance evenings on Saturday.Or 1 hour before a performance takes place.